About us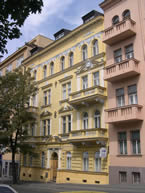 Czechfor Incoming Agency
has been offering
low priced and quality hotels in Prague
since 1999!
We provide comprehensive services including:
accommodation
in Prague,
restaurants
in the city centre (near the Charles Bridge, Hradčany – the Prague Castle),
cruises
on the Vltava river with dinner (dock in the city centre),
guides
in Czech, Polish, English, German, French, Italian, Russian as well as tours of Prague breweries.
We have long experience with accommodation in the Czech Republic. Particularly, we recommend the
Juno hotel
that offers quality and cheap accommodation in Prague in refurbished rooms with en-suite bathrooms. The Juno hotel in Prague features an excellent cuisine and is located near the metro station.
We also offer
business tourism
: meetings, festive events, conferences, congresses and events (corporate events – integration events, or company parties such as pig roasting, a keg of beer and live music) as well as incentive events (motivational events).
We guarantee a friendly attitude, quality service, low prices in Prague and customer satisfaction!